6 pack silicone bowl covers
Sold Out
These silicone covers replace the need for saran wrap. Cover your bowls instead of wrapping them or placing leftovers into containers. The sizes are:  6.5cm, 9.5cm, 11.5cm, 14.5cm, 16.5cm, 21cm
Manufactured in: China
Materials: Food grade silicone
Packaging: none
Customer Reviews
12/08/2020
Belinda K.
Canada
I recommend this product
Amazing - these work so well
I bought these to hopefully replace some plastic lids that are splitting for our glass containers. They work so well and are easy to clean. I wish I could purchase them individually in one specific size, but the set is still useful.
11/25/2020
Lisa P.
Canada
I recommend this product
Love these bowl covers!
For my purposes, the smallest cover works perfectly to keep my Lee Valley travel mug* from spilling, in-transit. I'd love to be able to buy just the small ones for that, given that they seem to "walk" on me! *it has a lid with a hole - so packing it while on my little motorbike is always a problem - until I tried the silicone cover!
07/15/2020
Grace F.
Canada
I recommend this product
Wonderful product!
I got these in yellow and love them, super flexible and easy to wash, I no longer use plastic wrap in my house!!
06/29/2020
Terri M.
Canada
I recommend this product
Silicon bowl covers
I love these covers, I have bought two sets! These have really helped me get away from using plastic wrap!
06/18/2020
Lisa P.
Canada
Love these bowl covers!
Great selection of sizes, and these work very well. I have a favourite travel mug, which doesn't close/seal completely, and i discovered that if I put the smallest size bowl cover on the lid (before I put the lid on the mug), I can carry my mug in the basket of my little motorbike - and get to my destination without ANY spills!!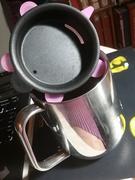 04/04/2020
Ellen A.
Canada
Silicone bowl covers
These are awesome, and the different sizes make use super easy and convenient. Cleaning them is also very easy.
03/29/2020
Susannah H.
Canada
Better than sliced bread....
I'm slowly but surely cutting down - and out - my use of cling wrap and similar non-recyclables, so when I saw these silicone bowl covers, I decided to give them a try. I was a little bemused when I opened my order and picked up these limp, droopy things, but once I discovered that each size could be stretched to fit - perfectly, I might add - whatever size container they're applied to, I fell in love with them. I use them on glasses, cups, butter dishes, small plates, cereal bowls....you name it, if it's relatively small, the cover will probably fit, and stretch and stick to stay on. They're great! Furthermore, they wash and dry like a dream. What's not to love?